How to book ferry tickets online on Aktoploika
Search for ferry schedules
Find information about all the available ferry schedules and timetables for the route you're interested in by filling the departure and arrival ports in the search box. You can also find information about indirect routes or use the feature of island hopping if your trip includes more than one destination.
Find your ferry tickets
Choose your ferry tickets after comparing prices, ferry companies and times of departure and arrival.
Book cheap ferry tickets
Make your tickets online reservation in just a few steps, without hidden charges.
Get your tickets
Get your online booking reference or your boarding pass and let your tip begin!
Explore the top Greek destinations by ferry
Discover useful information and travel to the best Greek islands by boat with online ferry tickets.
and more destinations.
Travel from all Greek ports to the most amazing destinations
Find real-time ferry timetables for all ferry crossings. Compare ferry ticket prices and companies, and book your trip to some of the most popular routes online:
Piraeus-Santorini: tickets from 30€
Piraeus-Mykonos: tickets from 28€
Heraklion-Santorini: tickets from 25€
Santorini-Mykonos: tickets from 37€
Piraeus-Hydra: tickets from 28€
Piraeus-Paros: tickets from 26€
Piraeus-Milos: tickets from 35€
Santorini-Naxos: tickets from 20€
Mykonos-Paros: tickets from 30€
Piraeus-Aegina: tickets from 8€
and many more.
Fill in the departure and arrival ports in the search box, pick your trip dates and start planning your vacation!
All you need to know about for ferries in Greece
Discover the answers to the most frequently asked questions (F.A.Q.s) for Greek ferries and ferry travel in Greece.
Do Greek ferries support e-tickets?
Almost all ferry companies in Greece provide e-tickets for their ferry crossings. When you make your online ferry reservation, you get a unique reservation code in your email. You can use this code to get your boarding pass at the security kiosk at the port, to be able to enter the boat.
How do I get to Piraeus?
The port of Piraeus is the largest natural port in Greece. The port is only 7 miles from Athens and about half an hour's drive from Athens International Airport, Eleftherios Venizelos.
Passengers traveling from the airport can take the subway to Monastiraki station (Blue line). From there, they can take the train (Green line) to Piraeus.
There is also frequent bus service (X96) from the airport which gets directly to the port.
Passengers traveling from the center of Athens are also advised to take the train to Piraeus (Green line).
Apart from the public transport, passengers can also hire a taxi to get them straight to the port.
Which is my ferry departure gate in Piraeus?
This depends on where you're traveling to. There are several electronic signs at the port of Piraeus where you can check out the gate your ferry departs from. There are 10 departure gates in the port of Piraeus:
E1 - Dodecanese
E2 - Crete, Chios, Lesvos, Ikaria, Samos
E3 - Crete, Kithera (vehicles entry)
E4 - Kythera (vehicles exit)
E5 - Bus station
E6 - Cyclades, Rethymno
E7 - Cyclades, Rethymno
E8 - Saronic Gulf (Aegina, Hydra, Poros)
E9 - Cyclades, Samos, Ikaria
E10 - Cyclades, Samos, Ikaria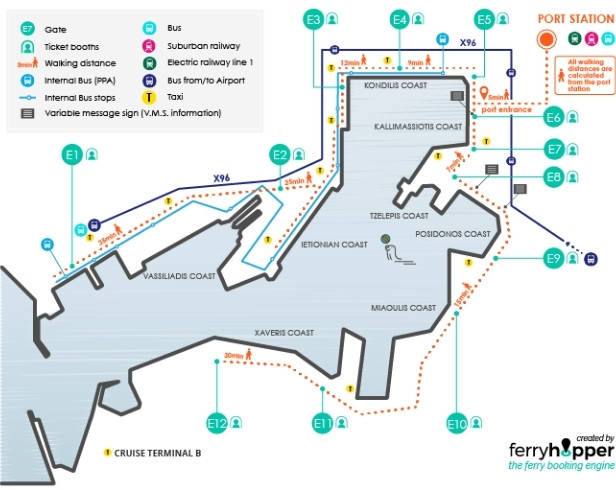 Which are the most popular Greek ferry companies?"
Which types of ferries operate in Greece?
Greece has a large fleet of ferries that travel to every destination. There are conventional and high-speed ferries, with amenities and comforts for the travelers. Most of the vessels have bed cabins that are ideal for long or overnight trips. The majority of the ferries have garages where you can transport your vehicle.
Keep in mind that there are fast ferries that don't have cabins or garage spaces. We suggest that you check the vessel in advance and choose your trip accordingly.
What is the boarding process on Greek ferries?
In order to board the ferry, you should present the necessary documentation to the crew, such as your ID and your ticket. Currently, due to the COVID-19 restrictions, you'll need to present a full vaccination certificate or a negative test result.
Regarding the luggage policy, Greek ferry companies are flexible, with no check-in procedure, and no specifications for baggage size and weight. You can keep your bags with you or store them in the luggage area of the ferry.
Which are the most popular Greek ports?
The most popular and visited ports in Greece are:
Piraeus in Athens
Lavrio (Athens)
Rafina (Athens)
Athinios (Santorini)
Tourlos (Mykonos)
The port of Patras
Should I book my tickets well in advance?
You're advised to pre-book your ferry tickets well in advance before your trip, especially if you're planning on traveling during the high season (mid-May to late August). Ticket availability can run out especially for popular destinations, like Santorini and Mykonos.
Also, if you're traveling with a vehicle or wish to book a cabin, you need to make sure to make your reservation as soon as possible to secure your spot.